WHO IS TARGETED TO?
Young people up to 35 years old in the following categories:
RESEARCH: Students and scholars in Economics and other related disciplines (master students, PhD students, young researchers). Basic requirement: bachelor's degree.
BUSINESS: entrepreneurs and managers.
Other CHANGE-MAKERS: Promoters of activities at the service of the common good and of a just, sustainable and inclusive economy.
Among all the candidates, a selected group has been invited to participate in a pre-event with working sessions and insights in preparation for the main event – The Economy of Francesco.
DEADLINE:
The deadline for submitting applications expired definitely on November 25.
Thanks to everyone! The response was truly overwhelming: thousands of young people from more than 120 countries worldwide!
Kindly follow the social media and the website in order not to miss updates and news!
In case of withdrawal please enter the Participants Area and read the POLICY and PROCEDURE.
Modifications and/or additions to this Call for applications shall be notified on the official website.
Limited available positions.
All applications were carefully reviewed by the admission board.
Participation Fee: 295€, including accommodation and meals.
IMPORTANT: We are confident about your attendance on the new scheduled dates! That's why we inform all participants that all the bookings made through the tour operator that collaborates with the Committee were automatically postponed and under the same conditions established and confirmed for the event in March:
Pre-event: from the evening of November 16 to 21, 2020
Event: from the evening of November 18 to 21, 2020
For any request or clarification please write to: community@francescoeconomy.org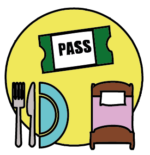 To register, you must have received a confirmation of acceptance of your application from the organizing committee (from the email community@francescoeconomy.org). If you have not received ANY answer to your application (always check your SPAM folder), please write to community@francescoeconomy.org.