10 years with Pope Francis: thank you!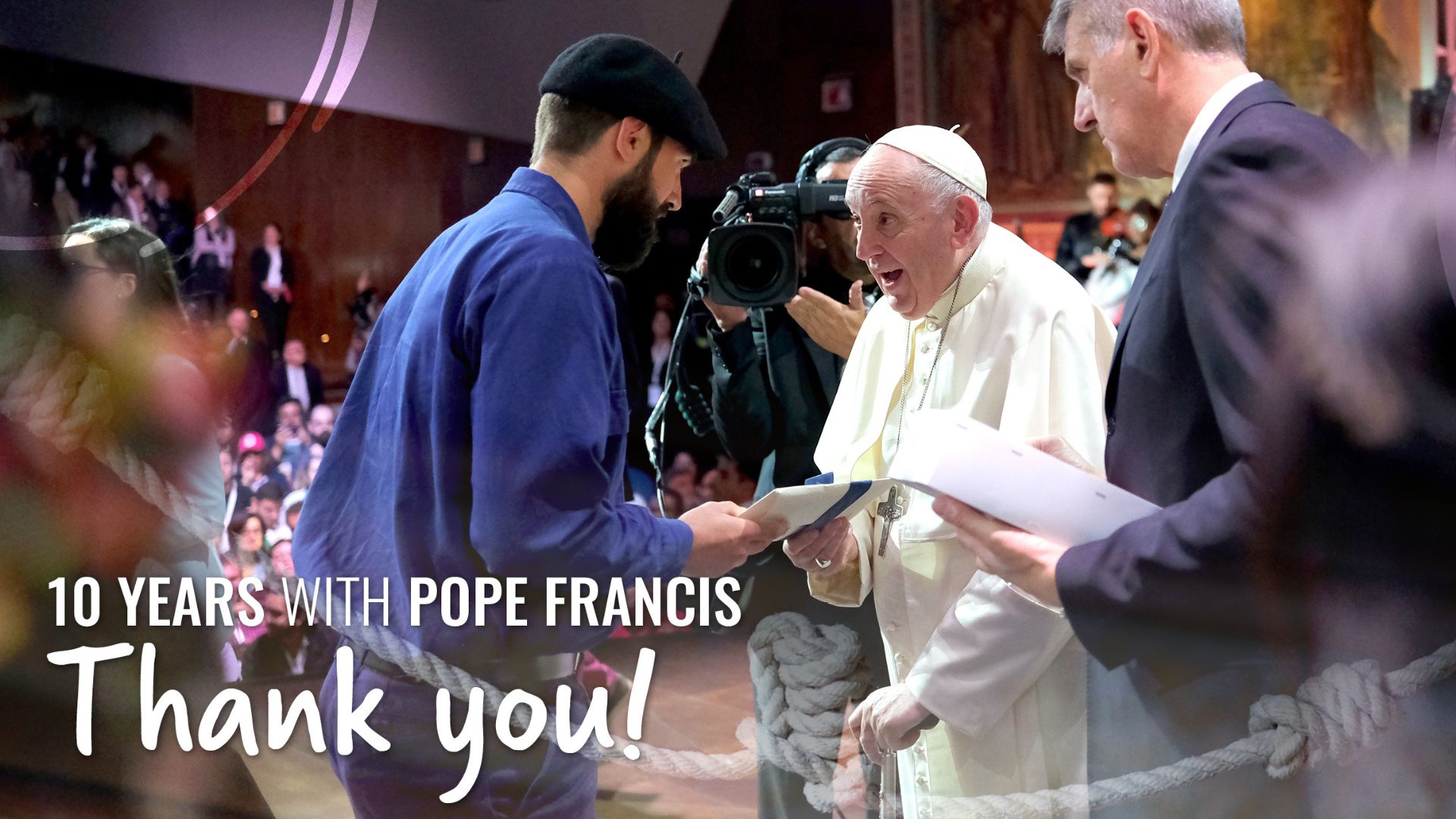 On March 13, 2023, Pope Francis will celebrate 10 years of his pontificate. We, the youth of EoF, want to express our joy and gratitude to Pope Francis for his magisterium and for believing in us, for calling us to give a soul to the economy, for indicating Francis of Assisi as our model for fraternity, poverty, peace, and the custody of creation.
With your help, we want to produce a video made from our individual stories. For this reason, we would like to ask you to send us a video wherein you will complete these three phrases:
1)  Ten years ago, I was …
2) Today I am …
3) and I dream …
The video collection will then be given to Pope Francis as a sign of our gratitude and as a sign of hope! We count on you! Thank you!
Some suggestions for your response:
Reflect within the EoF experience, and focus on the aspect of your life that is most inherent to EoF (profession, activity, study, vocation, aspirations, commitment, role in society, etc.). Think about what has happened over these 10 years, important choices, changes, etc. (in your personal life but also in reference to the social-economic-environmental context, global and local).
Some examples:
If I think back to 10 years ago, I was…  a student in … , a young man with the will to graduate in …, I worked for …; I had to start working early because … , a young man who dreamed of …, who believed in … , who did not believe that …
Today I am: a student in …, an entrepreneur …, I work in … ; I deal with … – enriching if you want also with notes about your personal life (I am a dad, a mom, etc…);
And I dream: space for dreams! Each of us holds in our hearts a dream, personal and collective, that gives breath to our daily commitments and work, a wide-open window to the future! E.g. to contribute to a project for …, to do my part in… ; to create a business of my own or with… , to continue to… ; to start …
Technical info:
the video must be vertical and up to 1 minute in length

you can record it in your own language
must be sent (via wetransfer or a Google drive link) to the email: [email protected]

must include:
introduction (first name, last name, country),

the answer to the 3 questions

a concluding «Thank you, Francis»
deadline: 28 February h 12.00 CET
If you have questions, please write to: [email protected]