We are together building a world where nobody is left behind. Postcard from WYD Lisbon 2023
By Margarida Ferreira Marques
A primeira semana de agosto em Lisboa foi, sem dúvida, um tempo muito inspirador, transformador e renovador de esperança. Viver esta semana com a Economia de Francisco Portugal e com estes "companheiros" foi o culminar do trabalho dos últimos 2 anos.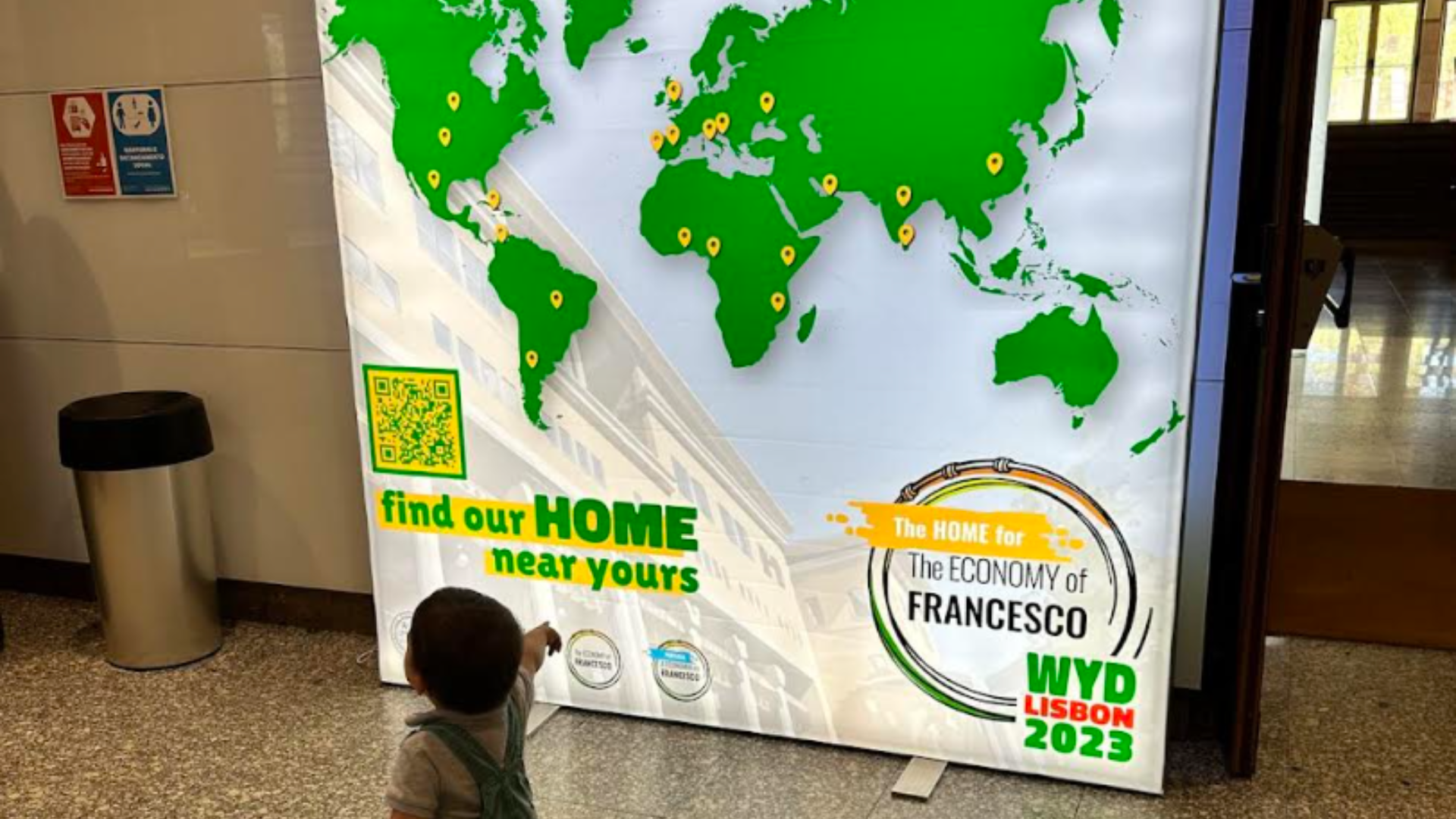 Começámos a semana no "4th International Congress on the Care of Creation" a falar de presente, futuro e estilos de vida. Da necessidade de educar para a contemplação e de deixarmos de gastar, para passarmos a fruir (com disse D. Manuel Clemente). Tive a oportunidade de acompanhar um painel sobre política e estilos de vida com perspectivas muito interessantes sobre políticas diretas e indiretas para a família, um tema que me toca particularmente e que nos define como sociedade. Abrimos as portas da nossa 'Home for the Economy of Francesco', na Universidade Católica Portuguesa, e durante 4 dias pudemos parar, estar, dialogar, encontrar amigos, partilhar e deixarmo-nos inspirar. A #EoFHome acolheu 4 conferências, mais de 10 talks e workshops, apresentou 20 projetos transformadores sempre sobre o mote: "we are together building a world where nobody is left behind".

Fálamos de Economia e Bem Comum, Ecologia Integral, Fraternidade Universal, Pacto Educativo Global, de pobreza, inclusão e felicidade e abrimos muitos caminhos.
Desses novos caminhos, destaco a conversa que moderei entre a Senhora Reitora Isabel Capeloa Gil e a Joana Gomes, empreendedora social a trabalhar no Uganda, que interpelaram os presentes a, independentemente da sua circunstância e do lugar onde estejam, saírem da sua zona de conforto e irem ao encontro do outro como forma de chegar a "todos, todos, todos".

O ponto alto da semana foi o encontro com o Papa Francisco que mais uma vez nos inspirou com as suas palavras: "Amigos, permiti dizer-vos: procurai e arriscai. Neste momento histórico, os desafios são enormes e os gemidos dolorosos, mas abracemos o risco de pensar que não estamos numa agonia, mas num parto; não no fim, mas no início dum grande espetáculo. Por isso sede protagonistas duma «nova coreografia» que coloque no centro a pessoa humana, sede coreógrafos da dança da vida."

Termino com uma nota pessoal, poder organizar e acompanhar um programa destes com 3 crianças (de 5, 3 e 1 ano) de férias, só foi possível graças a um grande trabalho de equipa e ao meu maior e incansável parceiro – o meu marido. Obrigada por acreditares na EoF (apesar de todas as reuniões de 5a feira), mas sobretudo obrigada por, abraçando o caos, acreditares sempre na nossa família!