Brussels Convention to explore 'economies of care'
Conleth Burns, one of the organisers of the Brussels event, explains its purpose.
(ENGLISH TEXT ONLY)
Young people from the Economy of Francesco will share their proposals and ideas elaborated, over the last year in their villages at the Dare to Care International Convention.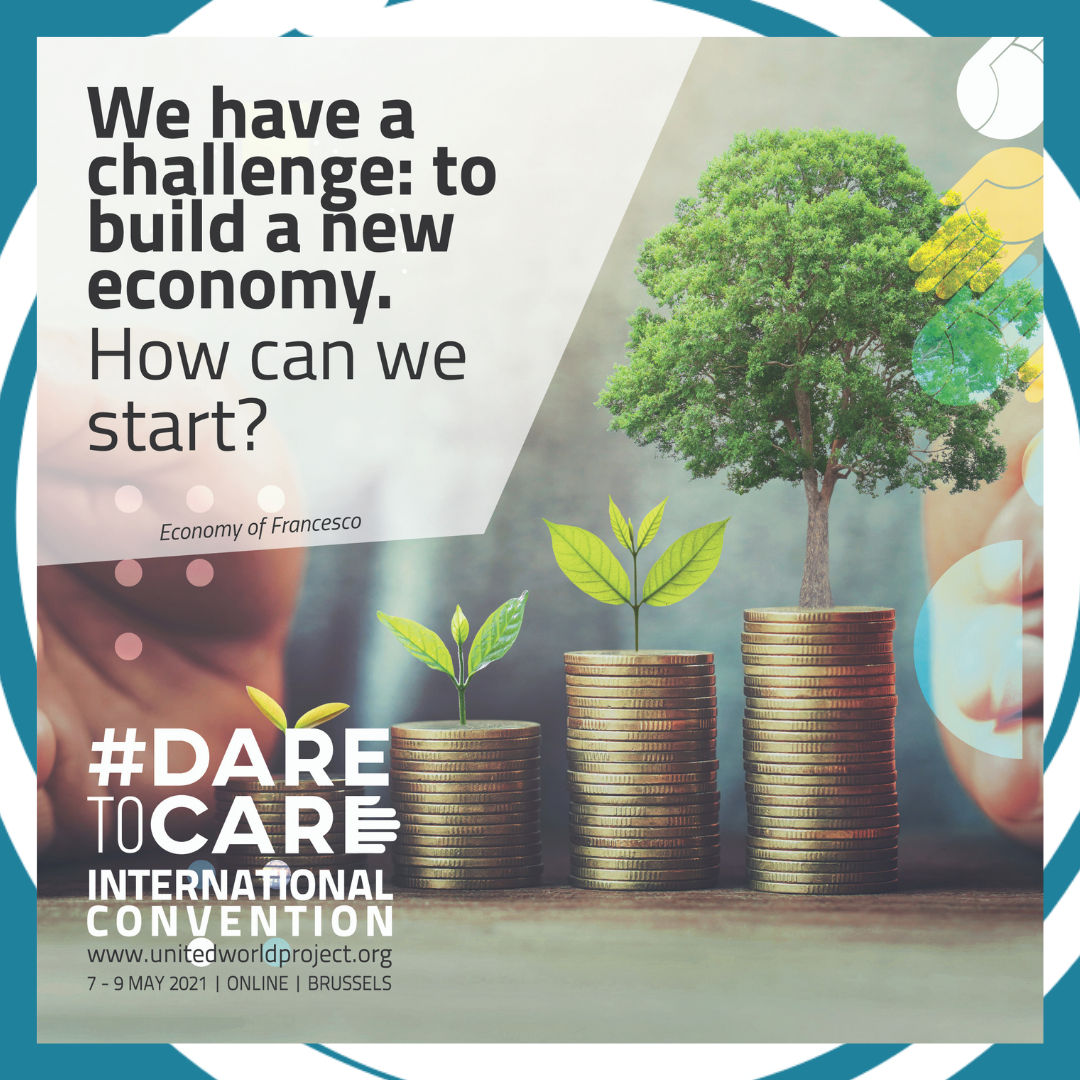 Young people from the Economy of Francesco network will participate in the Dare to Care International Convention which will take place online from 7th to 9th May 2021. The Convention, which will be hosted in Brussels but accessed online, will call on politicians and citizens around the world to embrace the vision of #daretocare as we move through the Covid-19 pandemic.
The convention is one of the central international events of United World Week 2021. This worldwide campaign week amplifies stories, actions and initiatives that contribute to achieving fraternity, unity, and peace among people, communities, and nations. This week, in its 25th year, creates moments of encounter in all corners of the world. This year, the United World Week has the slogan #daretocare, inspired by the campaign promoted by the United World Project.
The program will kick off at 12.00 on Friday 7th May with a show from Brussels that will take us on a world tour to see #daretocare in action. It will be followed by an important moment of dialogue will happen between a group of young people from across Europe and President of the European Parliament, David Sassoli. The young people will ask him about peace, politics, welcoming migrants and refugees and Europe's ecological responsibility.
Right after, at 14.00, the EoF villages of Work & Care and Policies & Happiness will present their proposals on what economies of care look like. The villagers will explore the proposals they have been working on over the last year including. You can register for that event here: https://zoom.us/webinar/register/WN_XYqDtUSgSp6fynX0ilh1jw
Friends of the Economy of Francesco will also help launch the next stage of the #daretocare journey which will focus on people, planet and our ecological conversion. Lilly Satidtanasarn, a climate activist from Thailand who recently celebrated Earth Day with the Economy of Francesco, will share her experience of climate activism to inspire all those connected as they set out on the next stage of the #daretocare journey. Mateuscz Ciasnocha, a farmer from Poland, a COP26 Regenerative Agriculture Fellow and EoF Agriculture and Justice villager will share his thoughts on how we can all support regenerative agriculture locally at the May 9th midday launch event. Joel Thompson, an economist from Guyana will share his experience of working with indigenous communities in the Amazon – communities facing the most catastrophic consequences of climate change. "A vaccine for all – the common good our world needs now, is the topic of the round table that will take place on May 8 with Jeffrey Sachs, Catherine Belzung, Pasquale Ferrara e Salvatore Pirri, research fellow in Health Economics and Data analysis at the Sant'Anna School of Advanced Studies.
The next phase of the campaign will immediately follow. Teenagers from Teens4Unity, Nomadelfia and the Pope John XVIII community will help all those watching action plan for their commitments to #daretocare. A webinar will then bring together activists and diplomats to discuss 'Care and COP26' and a project focusing on environmental accessibility will also be launched as part of the campaign on Sunday 9th May.
For more details on all the events taking place during United World Week, go to: unitedworldproject.org/en/uww2021