REIMAGINING DEVELOPMENT: YOUTH PERSPECTIVES FOR A BETTER WORLD

Reimagining Development: Youth Perspectives for a Better World is a virtual dialogue series (28 August-25 September 2020) towards the Economy of Francesco bringing together young people from international faith-based networks and organizations, seeking to contribute to discourse and actions for a paradigm shift in development. The initiative is fostered by Ecojesuitis (the global ecology network of Jesuits and partners, seeking collaborations for integral ecology), Don Bosco Green Alliance (an international collective of young people from Salesian Family institutions & organizations that contribute to global environmental action, thought and policy) and Living Laudato Si' Philippines (an inter-faith Catholic lay-initiated movement calling on Philippine financial institutions to divest from coal plants and other environmentally harmful activities).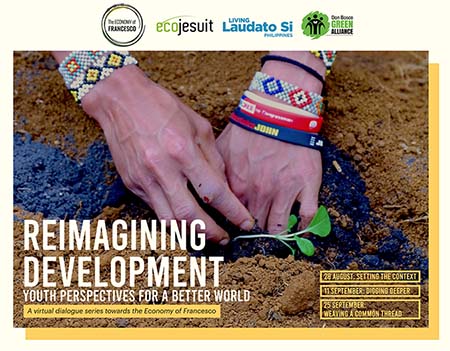 "A wave of discussions around the economy and society are occurring as the world continues to grapple with the COVID-19 pandemic and its impacts – say the organizers. A reimagining of economic, societal and environmental relationships are taking center stage as the cries of the earth and the poor grow louder. The idea of development is in need of a paradigm shift, and this is clearly recognized today in the face of greater challenges. For this initiative, participants from different regions are invited, in order to draw out more holistic and adequate responses and insights. The primary objectives are: 1. To understand from a faith-based youth perspective, and through the framework of the SDGs, how COVID-19 is impacting the economy, society, and environment regionally and globally 2. To help redefine prevailing definitions and measures of development, acknowledging the need to integrate factors concerning social wellbeing and environmental health. 3. To promote collaboration among youth in faith-based organizations and networks towards building a more just and sustainable world. 4. To contribute a set of recommendations and commitments to the Economy of Francesco that can be spread and shared globally. The broader intended outcome of this series is to kick start relationship-building among young people, so that they can work together beyond the sessions towards longer-term actions". 
The first session occurred on August 28 and focused on building context around the Economy of Francesco, and beginning initial discussions. With the moderation by Macson Almeida (Executive Secretary, DBGA), 36 youth leaders from various faith organizations, networks and organizations from the Asia Pacific and Latin America talked with Fr. Joshstrom Kureethadam, (SDB – Vatican Dicastery for Promoting Integral Human Development), who presented The Laudato Si' Year and with Prof. Luigini Bruni (Scientific Director Economy of Francesco) in a conversation about The Economy of Francesco. The UN Sustainable Development Goals and the role of the Youth was the topic presented by Dr. Iyad Abumoghli Director, Faith for Earth UN Environment Programme. 
The next dates are scheduled on September 11, when the three proponents will organize three separate dialogues within their immediate networks and September 25 for a final round of sharing and discussion.