"Work matters, but personal wellness matters too"
Interview
We met Juan Pablo Bueno, mechanical engineer, economist and EoF participant.
Can you tell us about your country, Juan Pablo?
Currently, there are many national initiatives focused on the construction of a new vision of the Economy. Even if we are living in a very difficult time due to the health and economic crisis, many people keep the sense of unity, solidarity and creativity, as part of our "latino" spirit.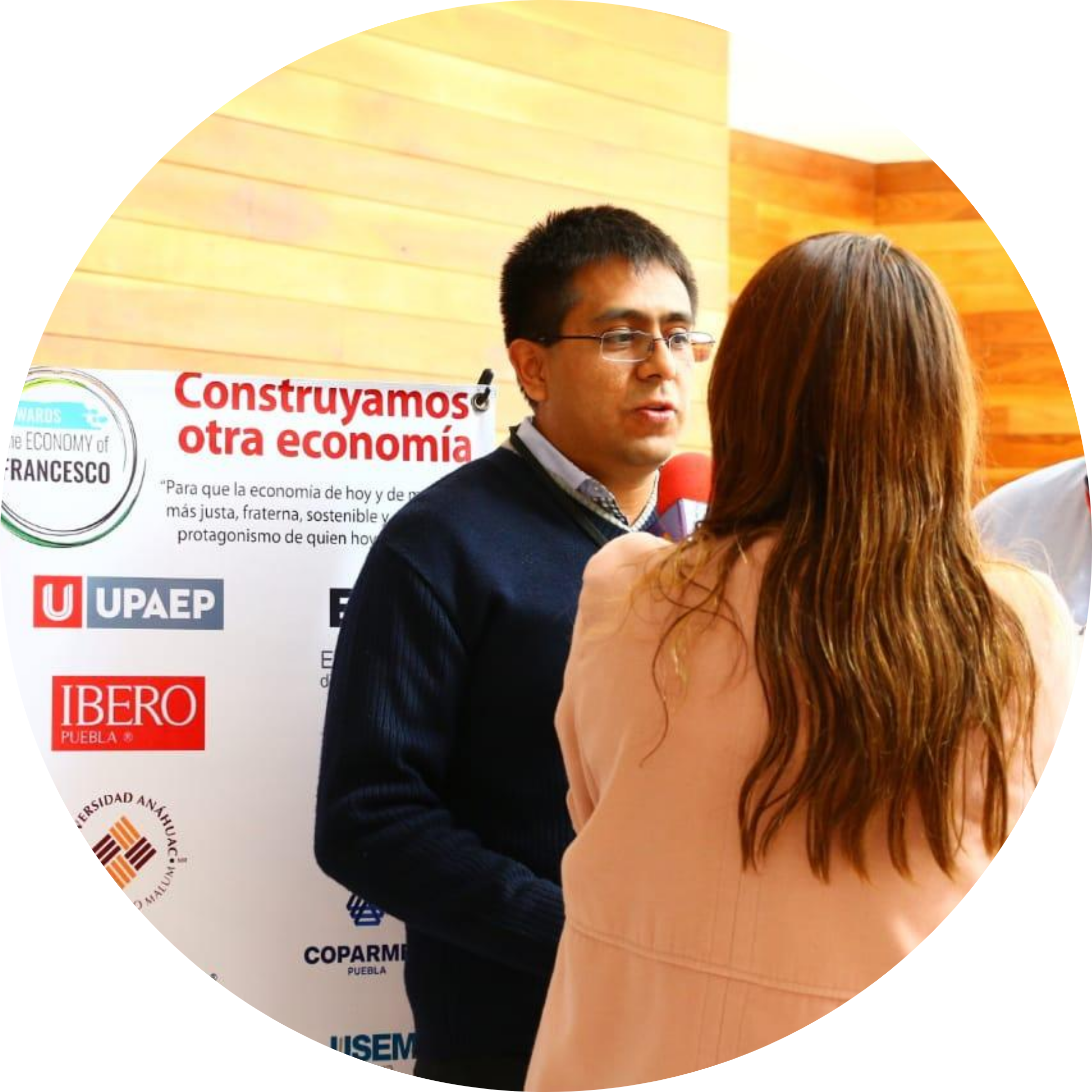 Mexican reality is complex. On one hand, so many people live in poverty and there will be more due to the pandemic. According to the National Council for the Evaluation of Social Development Policy (Coneval), the population with a salary below the cost of the basic basket will increase from 37.3 to 45.8%), many people, especially young people, are starting up new businesses and initiatives to employ people and to move the economy. Beyond that, there are a lot of researchers and changemakers, who are working for proposing new alternatives for this new world that we are seeing. In few words, we are country with a lot of difficulties, but at the same time, with much hope.
What does The Economy of Francesco mean for the world and for Mexico, today?
It is the opportunity to focus on efforts. Gathering with people of all over the world, I have realized that there are many similar initiatives for a better Economy in different places, which did not engage each other before EoF, because each one of them did not know anything about the other. Therefore, it is an excellent opportunity of mutual enrichment and collaboration. 
Moreover, I have met many young people who have particular interests, but they were working alone because they did not have the opportunity to know about a network of people working for a new economy. I would say that EoF means the chance to build a community of very different people with similar concerns. It encourages them a lot, because it is hard to keep going on if you feel alone, especially if the challenges to overcome are hard.
Furthermore, the inputs provided during the webinars and forums expand our vision, leading us to think more globally, but alto to act more locally. 
I think that Pope Francis' invitation is deep, wide, but at the same time, simple. I mean that we usually think that extraordinary changes involve complex actions, but it is not completely true. Complex actions are necessary, that is true, and there are people working on that. However, I think that society will not get engaged, if there are no simple actions and initiatives in which anyone can be involved, and EoF can put together each one of these elements.
In Mexico, you started a path inspired by EoF to walk together. What would you like to share with us about your meetings?
We are working in the Economy of Francesco Mexico network. On one hand, last February, in my city, we had a local pre-event in which people of all ages shared their ideas, projects and proposals of new practices for economy. On the other hand, there is this national network of Mexicans in Assisi. We realized that we could and we should work together as far as possible. 
Therefore, we decided to start building a national network to share each other's work. We had some meetings to introduce oneself and understand our working fields. It is interesting because many of them represent other groups and institutes, and provide their resources for expanding and sharing the work of the network. 
Nevertheless, beyond the formal work, as one of the members of the network said, it is an opportunity to start new friendships and to know that each one of us is not alone. Work matters, but personal wellness matters too, as relationships, are personal ones. 
No one left behind. What does it mean for you?
For me it means two things. On one hand, that no one can be excluded from the benefits of the system: every person in this world must have the assurance of a dignified life that guarantees a satisfactory development, having in mind not only his/her basic needs, but also a complete development in every area of his/life. In few words, for me it means that everyone must have the opportunity to be happy.
On the other hand, I think "no one left behind" means also that everyone should be involved in the construction of a better economy and not only in the outcome. I mean, it is not only a right to propose actions that will have a direct impact on one's own wellness, but also every one of us should be able to acknowledge each other's capacity to give, to share.
Everyone can give and receive, and no one should be left behind in doing it.