As street demonstrations in Iran begin to fade as a result of the extremely harsh repression operated for almost five months-blood-soaked and involving mass arrests-the young men and women of Economy of Francesco are promoting a new demonstration in support of Afghan and Iranian women on International Women's Day, March 8. The proposal is to demonstrate, on the same day around the world, with a reading marathon. Let's give voice to the forgotten stories of those in these countries who are losing all rights.
You might be interested in following the online version of the EoF Reading Marathon. → Click here ←

Reading testimonies, stories, poems, and interviews to raise awareness of the violated rights and freedoms denied to the world's girls and women, in Iran and Afghanistan in particular. We suggest reading texts written by women – to reflect, denounce, analyze reality and know the words of courage, determination, intelligence and peace with which women want to build new societies, free and just.
The inspiration and framework of the marathon is, once again, the incipit of One Thousand and One Nights: just as Shahrazad saved the women of the country and saved herself, managing to find a new story to tell every night, so we today feel the duty to continue to stand with the art of words alongside women and all the young people who are trying to build a better future. The marathon then continues with the reading of texts – chosen by the individual organizers – by women writers, poets, and journalists of the world.

Regimes fear art and literature because of their revolutionary power, because of their democratic structure, and their constant search for truth that teaches not to remain silent. EoF, therefore, continues to do what the people to whom the event is dedicated have asked: make our voices heard, and do not forget us. Today, every social and political issue is removed within days of its media explosion. Memory is therefore a rare commodity. That is why we need to be vigilant, as sentinels guarding a problem for which there is (perhaps) no immediate solution, but with respect to which we cannot turn away.
Shomér ma mi-llailah? Sentinel how much of the day is left? Sentinel, how much is left of the night? How long do we have to wait until, in our countries-Iran, Afghanistan and in all the countries of the world, the rights of women, girls, and little girls are finally recognized? September 2022, Assisi.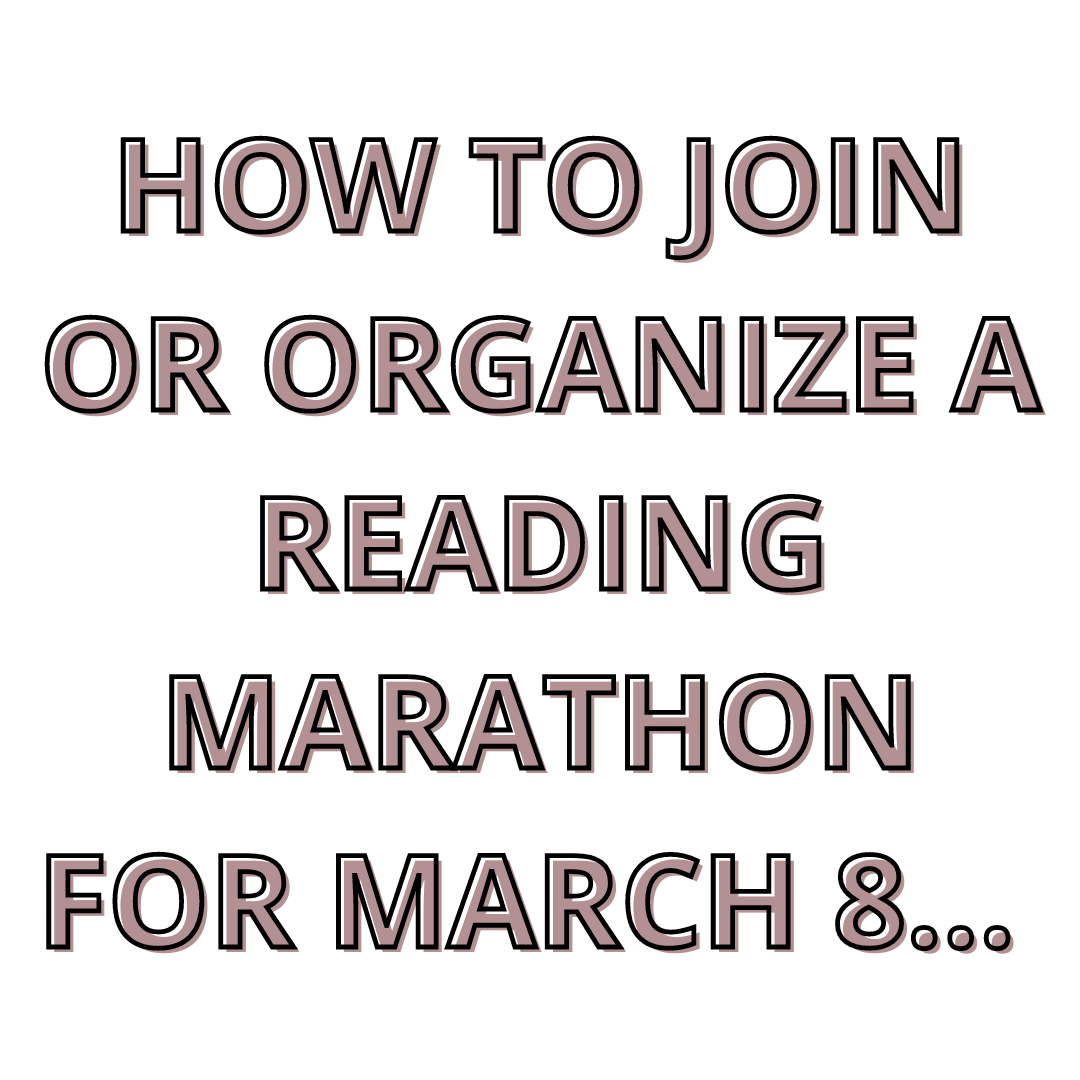 We invite you to:
– choose a place in your city that is open to the public (a square, a theater, a university, a school, …)
– involve citizens, associations, schools and especially other young people
– write as soon as possible to [email protected] indicating the city, address and time of your initiative: you will receive a statement to start the marathon and the draft poster you can use to spread your initiative. EoF will share it on official social channels.
– contact local media to report on the event
How does the marathon take place? Suggestions:
– opening the marathon by reading a shared statement (will be sent to you)
– depending on the length of your initiative, a number of male and female readers take turns reading one or more texts (in your language).
– record a 1-minute video and send it to [email protected] or tag us on social media.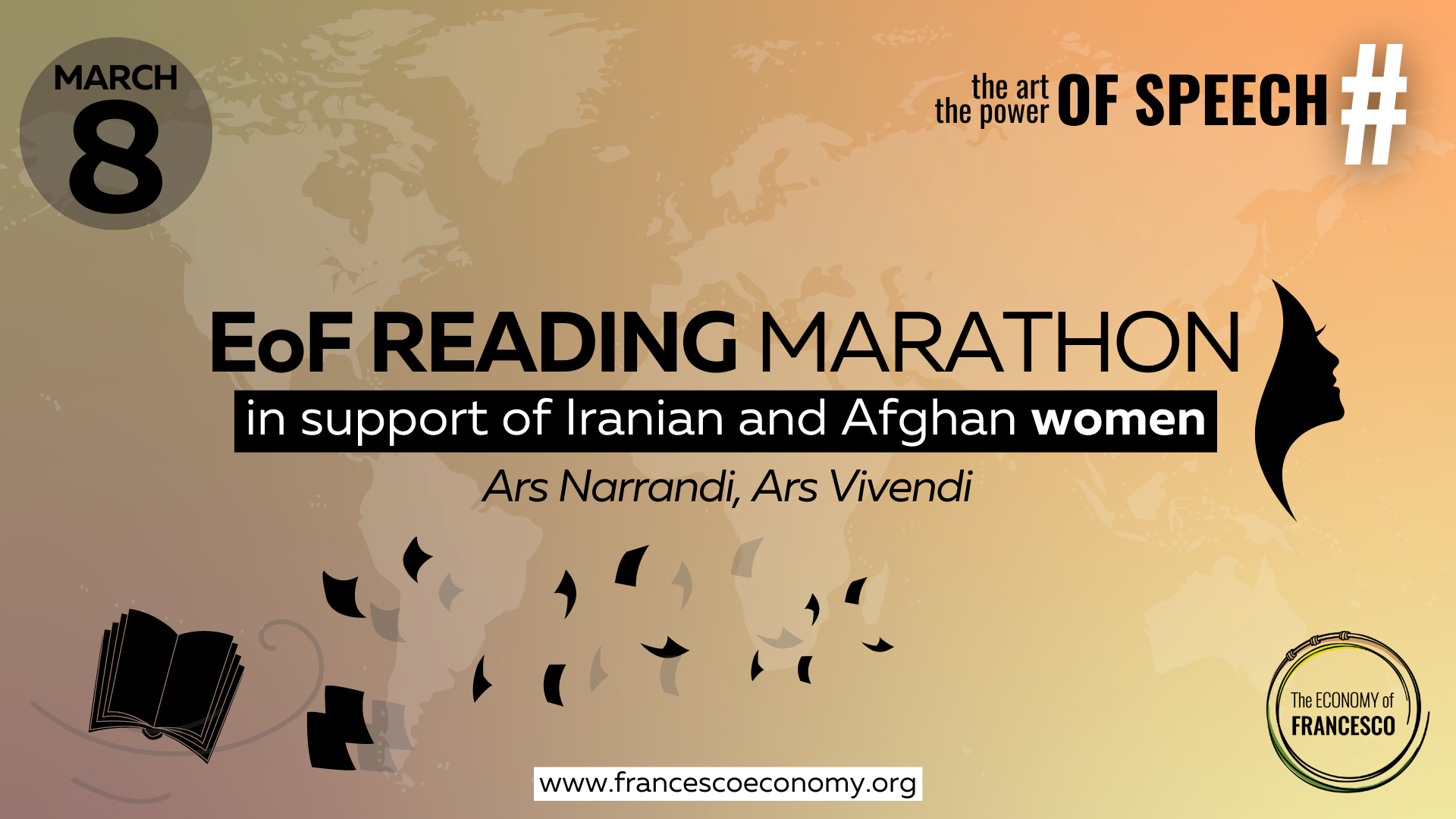 Some of the cities that have joined:
8.00 -13.00
Teatro degli Istituti Redentore
Via G. Romano – Mantova
18.30
Centro polifunzionale per migranti "Linea Comune"
via Romanello- Ruvo di Puglia
16.30
Piazza 11 Settembre
Noviglio (Milano)
10:00 – 12:00
Aula Magna dell'Istituto di Istruzione Superiore ITG e ITI
Vibo Valentia
8.15-13.00
Liceo Classico "F. Stelluti"
via R Pavoni, Fabriano (An)
16.30- 18.00
Sala conferenze dell'Istituto Superiore "Francesco La Cava"
Bovalino Marina (R. C)
10.00
Istituto Professionale Statale per i Servizi Sociali "Sandro Pertini" – with the cooperation of Progetto Policoro della Diocesi di Cagliari
via Vesalio, Cagliari
8.00 – 13.00
IIS di secondo grado L. Costanzo
Decollatura (CZ)
20.00
Pro-Loco di Cupello (Chieti)
17.30
Biblioteca Civica
Binasco (Milano)
10.00
IC PASCOLI – ALDISIO
Via Mario Greco, Catanzaro
15:30 alle 20:00
Museo della Civiltà Contadina
Piazza della Vittoria snc loc. San Bernardo di Decollatura, (Cz)
17.00 – 19.00
Lazzaretto di Cagliari
Via dei Navigatori, Cagliari
10.00
IIS Polo Tecnico Scientifico Brutium
Via Popilia, Cosenza
9.00 – 10.00
Liceo Scientifico 'Siciliani'
Via Acri (Palazzo Petrucci), Catanzaro
19.00
Parrocchia Santa Maria delle Libera,
Marcianise (CE)
19.00
Pizzeria Fiore – Via Belfiore, 1
Lecco
21.00
Sala della Spogliazione P.zza del vescovado
Assisi (PG)
16:30 – 18:30
Eppinger Caffè,
via Dante, Trieste 
ORE 9.30  IIS – ITI MAZZONE VIA G NATALE – CARIATI ( CS)
ORE 10.30 IC – SCUOLA MEDIA VIA D. ALIGHIERI – CARIATI (CS)
ORE 17.30 MUSEO MUMAM VIA XX SETTEMBRE CENTRO STORICO – CARIATI (CS)
8:00 am – 12:00 pm Pacific Time – Santa Clara University, Outside the Library and Learning Commons – Santa Clara, California, U.S.