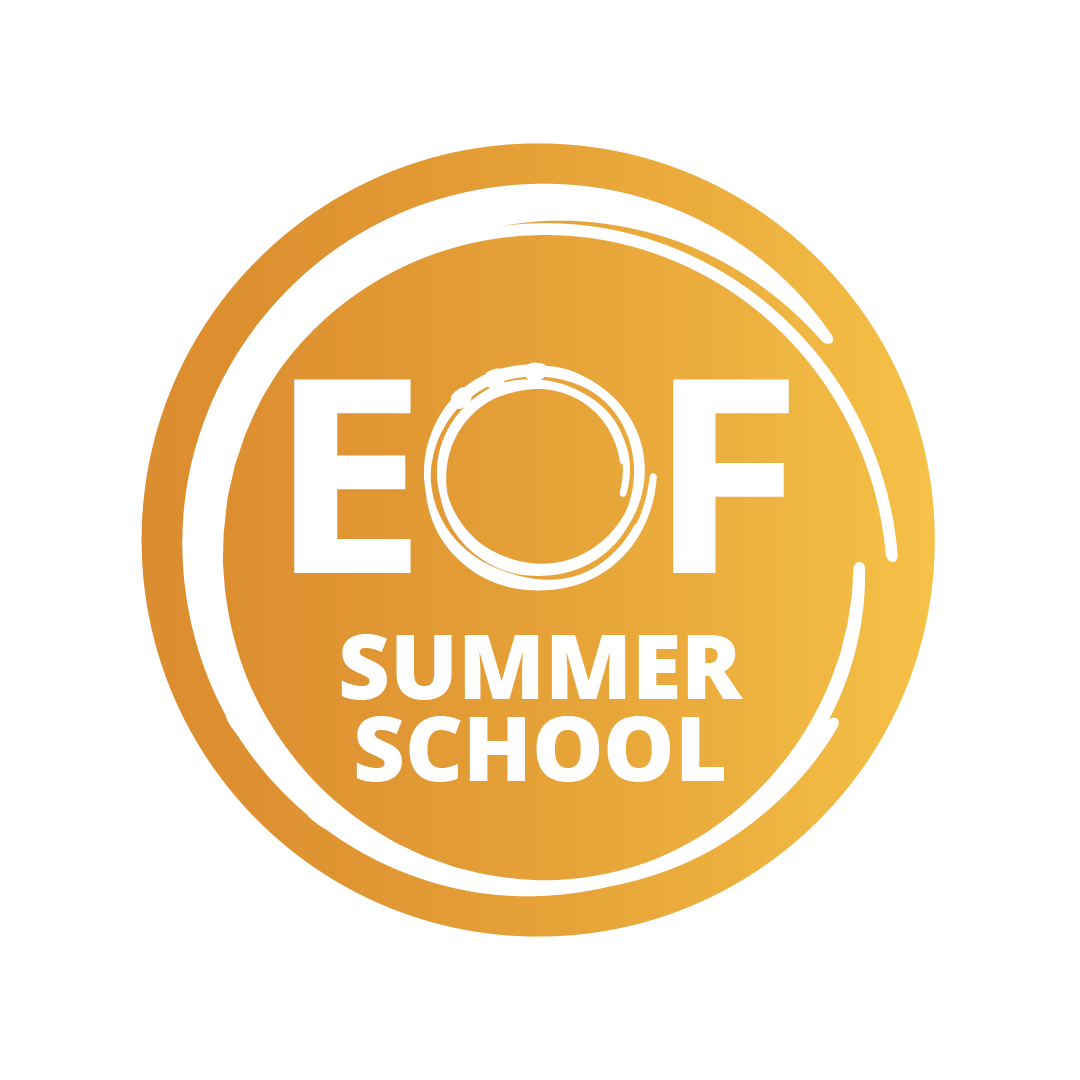 INTERNATIONAL
SUMMER SCHOOL 2023
Spiritual, social, and narrative capitals: going beyond capitalism
LA VERNA – FRANCISCAN SANCTUARY – June 18 – 23
The EoF Scientific Committee is hosting the second EoF International Summer School, which offers research and dialogue-oriented lectures from leading experts in economic fields. 
Why this Summer School 
[…] We are all seekers of meaning. That is why the first capital of any society is spiritual capital, for this is what gives us a reason to get up every morning and go to work and engenders the joy of living that is also necessary for the economy. Our world is quickly consuming this essential kind of capital, accumulated over centuries by religions, wise traditions, and popular piety. […] We urgently need to rebuild this essential spiritual patrimony. Technology can do much: it teaches us the "what" and the "how," but it does not tell us the "why," and so our actions become sterile and do not bring fulfillment to life, not even economic life".

Pope Francis, Assisi, Sep 24, 2022.

 
Narrative capital and spiritual capital are two ancient types of capital that are becoming increasingly important for our time's well-being, while the modern approach to social capital serves as the connective tissue that binds them in our daily encounters. Narrative capital comprises stories, tales, legends, origin myths, and traditions passed down over time and discussed across generations. Similarly, spiritual capital includes symbolic, moral, and spiritual dimensions inherited from previous generations. Narrative and spiritual capital contribute to building a vision of the world – the weltanschauung – that uniquely identifies a person, an organization, a community, or even a country. This social fabric has a significant impact on who we engage with and how we collaborate. It is this everyday tapestry of connectedness and implicit collaboration that this concept of social capital seeks to capture. When these capitals are available, people are better equipped to deal with life's adversities, are more resilient, and can flourish because they can tackle those adversities by relying on the experience of past generations, taking inspiration from their reactions, and ultimately feeling in good company. These capitals, which social scientists have seldomly paid attention to, are depleting fast due to the increased individualism and secularism that our societies face, with adverse consequences regarding the sustainability of our socio-economic systems. This summer school will discuss these different capitals and their role in our communities
To whom it is addressed and what it offers
The EoF International Summer School targets Master's and Ph.D. students, postdocs, and junior researchers in the field of Economics and related Social Sciences. The number of participants is limited in order to ensure an ideal ratio between students and lecturers. Students attending the Summer School intensify their knowledge in their fields of study and research and will have the opportunity to get to know peer-leading researchers in an interdisciplinary, co-generative environment. Although the Summer School intends to bring together science academics from different countries, it also encourages the participation of practitioners in the field. This enables mutual enrichment and dialogue between theory and praxis. 
The choice of venue, La Verna, located in the Tuscan Apennines, was purposely selected for the peculiar experience it offers to the attendees through discovering the spiritual abundance in the life of St. Francis and the unique landscape and natural beauty. The Summer School is a one-week program, onsite. The program comprises a full-time mix of lectures and workshops taught by EoF professors and other invited leading scholars. The program also includes a number of relevant field trips and cultural events.
Lecturers
Luigino Bruni
Economist and historian of economic thought, with growing interests in ethics, biblical studies, and literature. Full professor of Economic Policy at LUMSA University.
Aneeqa Malik
Founder Integral Soulidarity Research Academy (iSRA) and Co-founder and Integral Islamic Research Associate at Trans4m Communiversity Associates (TCA). Economic Mystic. Global Research Strategist for Akhuwat Foundation, Pakistan.
Benedetto Gui
Full Professor of Civil Economics and Economy of Communion (Sophia University Institute).
Gael Giraud
Professor of the Practice and Research Director – Georgetown University. Senior researcher CNRS, permanent fellow Nantes Institute for Advanced Studies, extraordinary professor Stellenbosch University.
Nadia von Jakobi
Assistant professor, Department of Economics and Management (UniTrento).
Stephan Voigt
Professor and director of Institute of Law & Economics (UniHamburgo).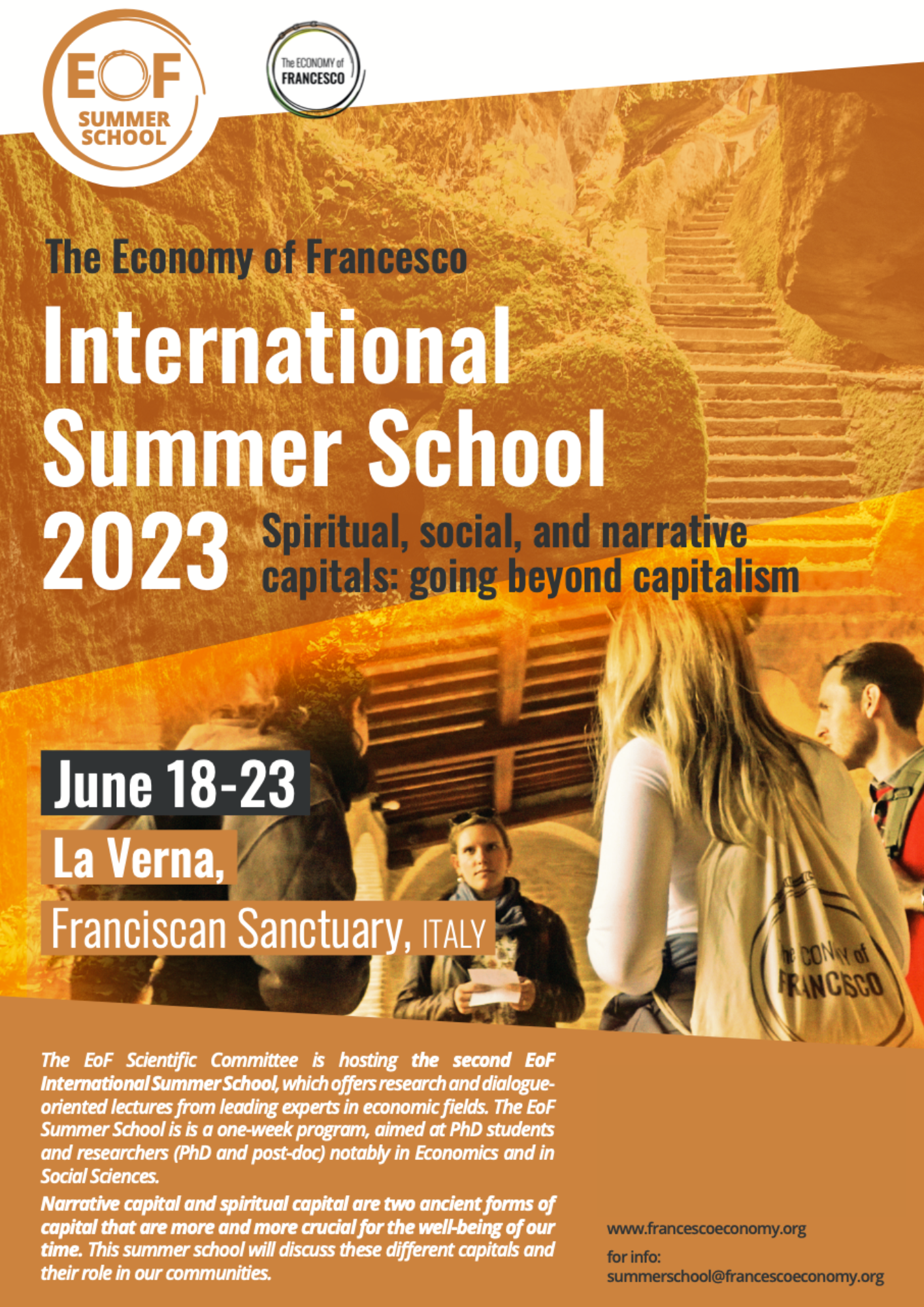 Coordinators
Valentina Rotondi, Lecturer and Researcher SUPSI and Nuffield College
Matteo Rizzolli, Associate Professor of Economic Policy at LUMSA University
🟠 PROGRAM
18 June – Arrival
Check-in and Soft Welcome
Team Building and Introduction to Narrative Capital 
19 June – Social Capital
9:00 – 10:00 Welcome Session with Padre Francesco, Bishop Sorrentino and EoF Summer School Coordinators
10:30 – 12:30 Relational Goods and Social Capital – Lecture by Benedetto Gui
14:00 – 15:00 Face to face with S. Francis
15:30 – 16:15 Towards an alternative to the capitalization of the world – Lecture by Gael Giraud
17:00 – 18:30 Guided Tour in La Verna Woods
21:00 Poster Session and Social Capital in action
20 June – Narrative Capital
8:30 – 9:00 Spirituality pills
9:00 – 10:30 From amoral familism to moral family – Workshop Session with Valentina Rotondi and Matteo Rizzolli
11:00 – 12:30 Face to face with S. Francis
15:00 – 18:45 Visit to Piccolo Museo del Diario and Archivio Diaristico Nazionale – Pieve S. Stefano
21:00 Your Diary: Narrative Capital in Action
21 June – Narrative capital
8:30 – 9:00 Spirituality pills
9:00 – 11:00 Introduction to the Narrative Capital – Lecture by Luigino Bruni
11:30 – 12:30 Face to face with S. Francis
15:00 – 19:00 Workshop on Narrative Capital with Nadia von Jakobi and Stephan Voigt
21:00 Poster Session and Social Capital in action
22 June – Spiritual Capital
8:30 – 9:00 Spirituality pills
9:00 – 11:00 Soulidarity with Universality – Pathways to Creating a Soulidarity Economy – Workshop Session with Aneeqa Malik
14:30 – 18:15 Ora et Labora – Lecture by Luigino Bruni and visit to Monastery and Eremo of Camaldoli
21:00 Poster Session and Social Capital in action
23 June – Conclusions and Departure