Comments from the EoF meeting with Kate Raworth
By Valentina Rotondi (Postdoctoral researcher – University of Oxford)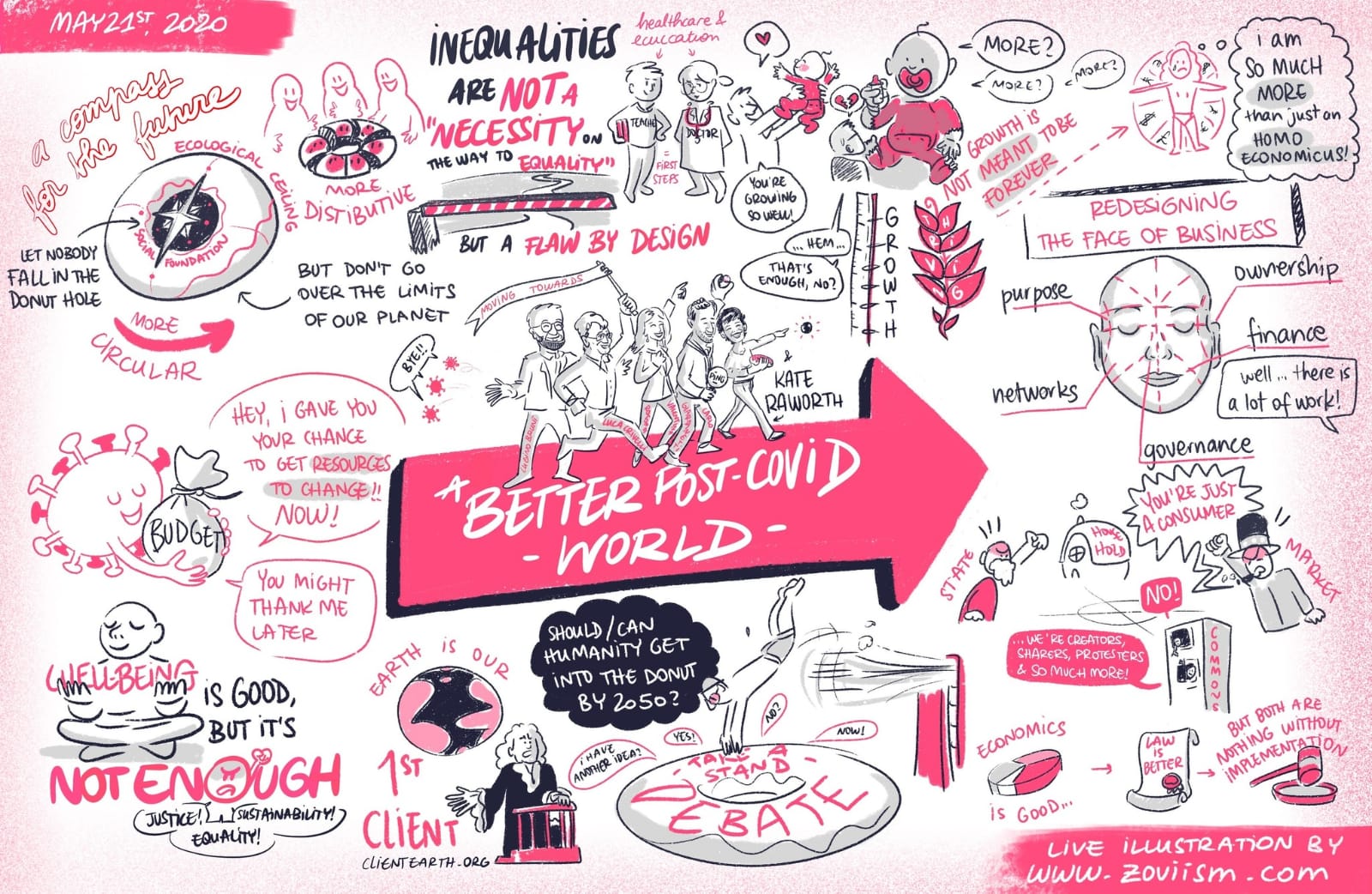 Let's imagine a subversive economic theory starting from something as simple as a doughnut. This is the revolution developed by Kate Raworth.
Kate imagines a world in which economic growth is not an end in itself. The ecological collapse that our world is witnessing urgently requires a different vision. Kate imagines a new economy that is able to combine the necessity to safeguard at the same time planetary and social boundaries.
There is an ecological ceiling that cannot be overshot if we want to survive. At the same time, life's essentials (health, education, income and work, peace and justice, political voice, social equity, gender equality, housing, networks, energy, water, and food … short: basic human rights) should be granted to everyone. In Kate's model, an economy is prosperous when all twelve life's essentials are met without exceeding the ecological ceiling. In order to do so, a new economy is required that is regenerative and redistributive by design.
Kate discussed her theory with more than 2000 young people from all over the world during a Webinar organized for The Economy of Francesco. With incredible emotional and communicative power, Kate has revolutionized not only economic theory, but also the way we communicate it. With the lightness of a ping-pong of questions and a smile, she has been able to transform difficult concepts into concrete examples. She let herself be questioned by the youths and asked never trivial questions for them too.
This ping-pong of questions and answers has generated a rich discussion in which the depth of the concepts was accompanied by the ease of the exposition. Kate has taught us a lot. Above all, she has taught us that sometimes you can be simple even by proposing theories that will deeply change the world.
Economy of Francesco on-life seminars. Moving towards a post-Covid better world

is a webinar series organized by the scientific committee of The Economy of Francesco aiming at exploring some major topics and challenges of today's economy.  On the occasion of the Laudato Si' week, the third live streaming focusing on Designing a regenerative and distributive economy – Thursday, May 21st – was with Kate Raworth, an economist from Oxford University and author of the essay Doughnut Economics – Seven Ways to Think Like a 21st-Century Economist.