The UN Food Systems Pre-Summit with The Economy of Francesco
The testimony of Lucia Capuzzi, journalist of "AVVENIRE" and moderator of the 2nd day of the UN Pre-Summit on Food Systems (Rome) promoted by the Vatican Covid-19 Commission and "The Economy of Francesco" on July 27th , 2021
by Lucia Capuzzi (text collected by Solen De Luca – EoF Media staff)
Review the working session of the Second Day of the UN Pre-Summit on Food Systems on July 27th 2021, held in Rome, promoted by the Vatican Covid-19 Commission together with "The Economy of Francesco": https://www.youtube.com/watch?v=a2JpBRq8uFE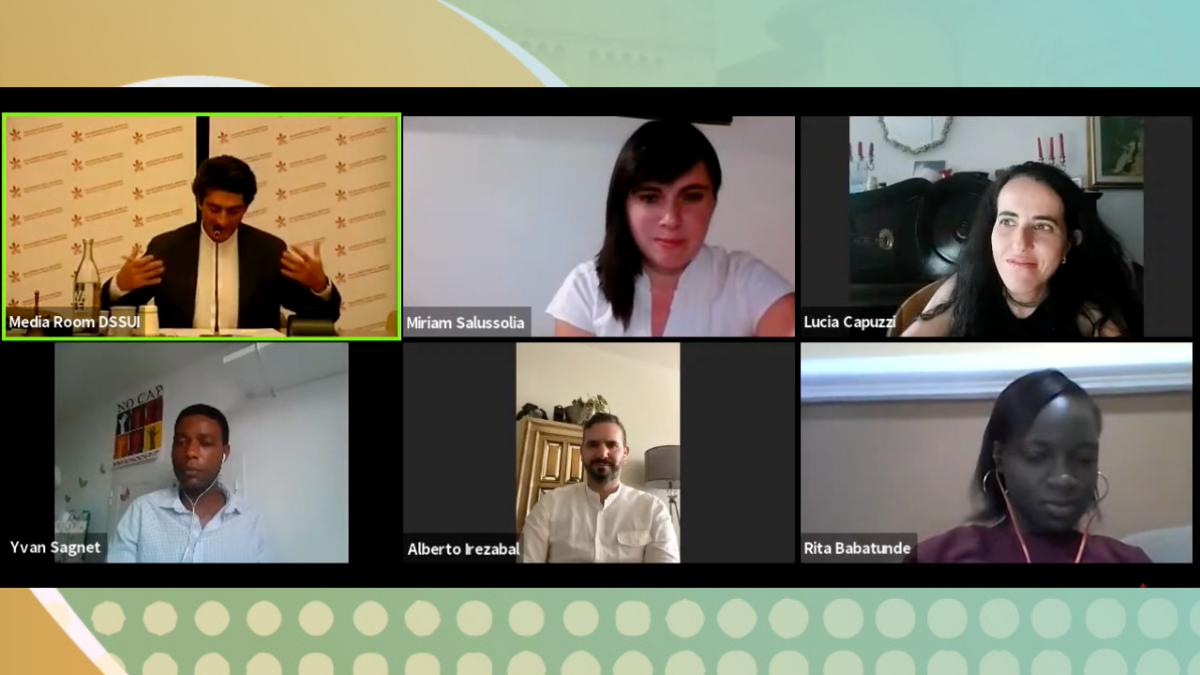 On the pages of Avvenire, where I have been writing for years, I deal with international politics generally  and Latin America in particular. I often focus on social issues, among which the theme of fair food for all occupies an important place. So when the Dicastery for Integral Human Development asked me recently  to moderate an online event on food promoted by the Vatican COVID-19 Commission together with The Economy of Francesco, I was delighted: I could give my very small contribution to something I believe in, namely the participation and involvement of young people. 
The strong point of the panel I moderated was, in my opinion, precisely this: the involvement of young people as protagonists, in a conversation for them and among them, very different from those events and seminars marked by a series of pre-prepared reports that do not allow for any comments. I therefore had the opportunity to listen to  young people and learn a lot: their point of view is indeed a surprising one, surprising  me and the audience listening to them, because it forced us to think.
The panel lasted an hour in all: half an hour of discussion with several people giving an input, half an hour of ideas from Father Augusto Zampini, undersecretary of the Dicastery. I was in charge of the first part, in which I moderated a conversation between three young people from different parts of the world: Miriam from Italy, Bárbara from Brazil and Mateusz from northern Poland. The idea, which was a winner for me, was for these young people to exchange images, suggestions and personal experiences about their lives. 
We started with a first question that may seem almost banal, but is not: what does food represent for each of them. Some very interesting, surprising and original answers emerged. Barbara, who belongs to an indigenous community in Brazil, said that for her, food is community. Mateusz, who works with an alternative, non-intensive, pesticide-free form of agriculture, associated the word food with memories of family dinners and the element of sharing. Finally, Miriam from Italy, who owns a company in the agricultural sector, pointed out that Covid has paradoxically represented for her an opportunity for economic growth, as people now seem to pay more attention to finding healthy food. 
The second question was about their personal stories, which surprisingly were similar: both Miriam and Bárbara decided to go back to the land, while Mateusz already belongs to a farming family and simply decided to continue this tradition introducing methods which are  more respectful  of  the environment and people. This, too, is a sign, because – as Pope Francis also notes in his prayer intention for the month of September 2021 – the current generation cares more about an environmentally sustainable lifestyle than their predecessors.
From exchanges like these,  one can understand how innovative and central a movement like The Economy of Francesco is: a true international network that creates links  between young people and tries to break old patterns and paradigms, opening up new scenarios. At a time of pandemic, we often forget that the most widespread epidemic in the world is still hunger. Even hunger, however, has a cure and a vaccine, and the vaccine may be these very young people: their attention to sharing, their ability, without being contaminated by a series of old prejudices, to imagine and look beyond towards a present and a future that is fairer for all.