JULY 15th 2021: MASTERCLASS ECONOMY OF FRANCESCO and WORLD FOOD FORUM
FIRST OF FOUR WEBINARS IN VIEW OF FOOD SYSTEMS SUMMIT 2021
by Solen De Luca (EoF media staff)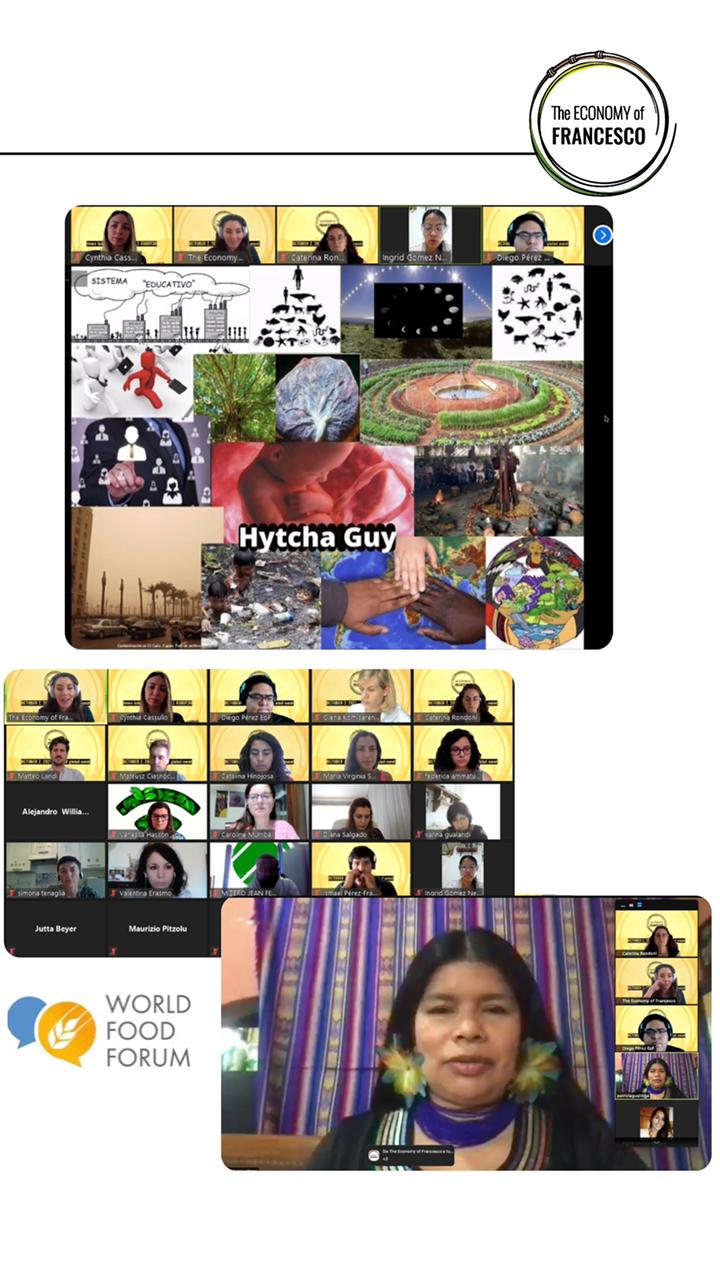 More than 100 registered participants, mainly from Latin America (Brazil, Argentina, Mexico, Ecuador and Peru) but also from Europe (Russia, Spain with Italy in the lead). In the first of the four Masterclasses organized by The Economy of Francesco in collaboration with the World Food Forum. The World Food Forum organized by the FAO (Food and Agricultural Organization of the UN), which foresees the participation of government representatives, United Nations leaders and youth organizations is the event in Rome from October 1st to 6th 2021. Spanish and English were the main languages spoken during the Masterclass, which is no coincidence given that they are the two most widely used languages in the world after Chinese.
Collaboration with the World Food Forum began about a year ago thanks to a joint effort between The Economy of Francesco and FAO, aimed at bringing together the young people of both organizations.
"Energy and agriculture" was the central theme of the reflections carried out by the young people of the Economy of Francesco during this first international webinar, which lasted about 90 minutes. Three speakers animated the webinar: Diego Pérez, theologian coordinator of The Economy of Francesco Mexico, Ingrid Gómez Neuque and Patrícia Gualingua, respectively representatives of the indigenous peoples of Mhuysqa (Colombia) and Srayaku (Ecuador). Their testimonies helped participants to understand what it means in practice to confront the illegal power of the multinational hydrocarbon companies and their geopolitical interference in territories they do not own, disregarding fragile and virgin ecosystems and the rights of local populations who are, to all intents and purposes, the custodians of world biodiversity.
Other important speakers included Cynthia Cassullo, coordinator of the Department of Economics at the Pontifical Catholic University of Argentina (UCA), Olena Komisarenko from the Pontifical University of St Thomas Aquinas (Angelicum) in Rome on the role of women in the economy and Vanessa Hasson de Oliveira, from the Pontifical Catholic University of São Paulo (Brazil), a specialist in environmental law.
The next three Masterclasses will also focus on agriculture and energy, with particular attention to the injustices inherent in these issues. The ultimate objective of this cycle of Masterclasses is to create, especially in young people, an awareness of integral ecology, or what we might call a "new economy with a soul", made up of justice and attention to the least, including indigenous people, the poor and women.
Stay tuned!